Haliburton Trout Ice 0ut
Fishing Canoe Trip - April 2016
Following the success of our May 2015 Spring fishing trip in Algonquin (Louisa/Welcome loop), Peter and I decided to head out early in the year to once again brave the cold and fish for trout before they relocate to the depths. But mid May in 2015 meant black flies, which was not pleasant. So for 2016, we planned to get out as soon as the ice broke.
We had planned to go to Little Trout Lake in North-West Algonquin, but the ice was still in for our planned weekend of April 30th. So a few days before, we decided to head to Haliburton instead, where the ice was already out. Various sources indicated that Nunikani and the surrounding lakes should be good for trout fishing. So, we made a last minute reservation change and made our way to Big Hawk Lake Marina (parking is free, as long as you reserve with Haliburton Trails ahead, and park only in their designated spots).
With the ice just out, we expected some cold weather. Most of the snow was gone, but parts of the portages not in the sun had over a foot of snow still. But, the trout are always hungry once the ice breaks, so it's worth it!
Day 1, Thursday Apr. 28th
High temp: 10.6C, low temp: -6.9C
One benefit of planning our trip for Haliburton is that trout season is open earlier, whereas Algonquin would not have started until the Saturday. We also knew that many of the smaller nearby lakes are well stocked with a variety of species (speckled, lakers, and splake, depending on the lake).
The water was very high, and the dam at Nunikani was certainly flowing with ferocity. But the weather was sunny and pleasant, and the paddle in was scenic and quiet. Once we got into camp and settled in, we headed our way over the Wallace Pond around the corner from our camp. The portage was extremely rough, hilly and filled with snow, but with some difficulty, we made our way to the aptly names Wallace Pond. Because... it is not very big! We knew it was stocked with lake trout, but it really didn't seem possible such a small pocket of water could hold trout.
All the same, we began casting the shoreline, and it only took an hour or so for Peter to land a decent sized lake trout (about 18"). I filleted it and we enjoyed it with dinner, and dreamed of the fishing potential for the remainder of the trip.
Day 2, Friday Apr. 29th
High temp: 11.6C, low temp: -5.5C
The temperatures in this report are historical data from Environment Canada, for neighbouring Bancroft. I'm always stunned on these early season trips to come home and look up the temperature data. It never feels as cold as they report. We certainly saw a skim of ice near the shore, and the nalgenes iced up a little, but it did not feel that cold overall. Of course, the lows happen around 3am, and we use good down sleeping bags designed for these conditions. By morning, the temperature was around 0C by my thermometer in camp. The day always starts with a fire.
We braved the portage again to Wallace Pond after breakfast, with the intent to fish it a bit, and then head into Shoelace Lake. We had to troll every bit of the pond again for over an hour, but eventually I landed a second lake trout. At that point, we headed to the far end of the lake to make our way to Shoelace. This was no easy feat, as there was no discernible portage. With difficultly we found a rough trail and lugged our fishing gear across to a large beaver dam.
Shoelace looked extremely promising with excellent structure in the water, but unfortunately we only had a few feeble bites and landed no fish. So, we headed back to Wallace pond, and tried our luck a bit longer. Which paid off... as we caught one more lake trout, and two speckled trout! I had been told that the two species do not naturally co-exist in the same body of water, but I've seen this enough times now to know this is not true.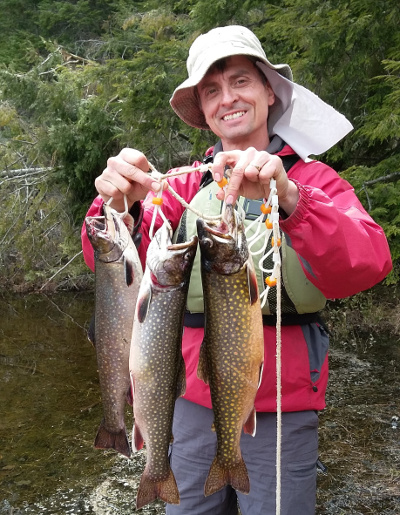 We were shocked at the size of the trout we managed to catch. The largest was 22.5" long, and except the splake we caught the next day, all were over 16". That dinner, we ate like kings. I think we kept one or two fillets for breakfast.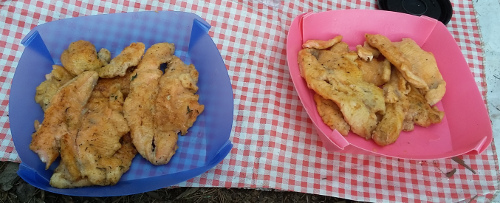 Day 3, Saturday Apr. 30th
High temp: 16.7C, low temp: -5.6C
Hurray for no rain! This turned out to be the warmest day by far. We decided to paddle over to East Paint Lake, which is stocked with splake: the Franken-fish of trout. Splake is a hybrid of a female lake trout and male brook trout (or speckled trout.) They are raised in hatcheries, and added to many Ontario lakes for sport fishing. The main reason to stock splake is that they do not reproduce, so they cannot compete with natural species. They are more hardy like lake trout, but have the more delicate flesh of speckled trout. We had never caught splake before, so we thought it would be fun to try our luck.

It took some time to get to Nunikani and while the portage into it is flat, it is long (1300m). We hadn't seen many people so far, but on arrival at the lake we did see a group of fishermen in a motor boat (we expected this, since we could see their footprints in the snowy areas.)
We started fishing, but we had no luck for the first hour and a half. But, we've learned over the years that trout fishing required patience, and in the Spring, you have to cover every bit of the lake to find out where they are hiding. East Paint proved no different, as we managed to land four modest sized splake mostly in one area. It took the better part of the day, with an overall catch rate of about one fish per 90 minutes, which is about 2/3 trout per rod hour (since there were two of us fishing.)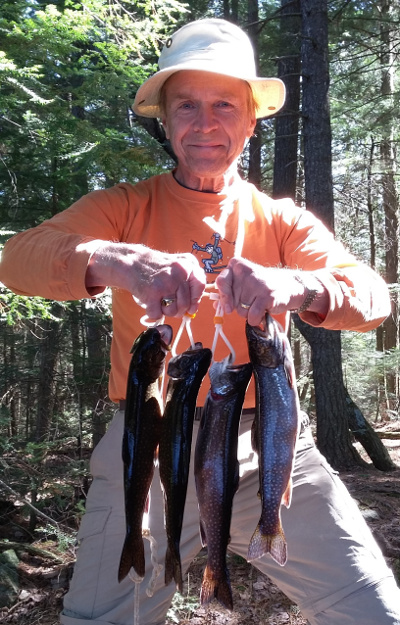 Day 4, Sunday May 1st
High temp: 8.4C, low temp: 0.2C
Our last day was definitely overcast and cooler. But, we still wanted to maximize our time in the wild, and fish just a bit more. We had not fished on Nunikani at all, although it does have lake trout in it. We figured that such an accessible lake was unlikely to have as many fish, and from the other (unsuccessful) fisherman we did see on the lake, I think that proved to be true. So, we struggled our way back to Wallace Pond. And, it took a bit less than an hour for us to land into another large lake trout.

As we had to pack up still, so for the first time ever I filleted the trout and Peter and I each took one home. I've never caught so many fish that I felt comfortable taking one home. It was nice to be able to share them with our respective families.
So, we learned that you do not have to struggle over kilometers of portages into the depths of Algonquin to find the elusive Spring trout. I was completely surprised that we had such success in a fairly accessible area. If you're reading this... keep it a secret!