Algonquin Trout Fishing Canoe Trip
- July 2014
For 2014, my "Big Canoe Trip" for the year would be a true trout fishing excursion into the heart of Algonquin Provincial Park. For many years, I've failed to really catch any trout, at any time of year (even during "ice out" trips, when the trout are supposed to be at the surface). My canoeing buddy Peter and I decided to learn the ropes properly by starting our trip with a one-day course on summer trout fishing, held in the park ( see here for details, under 'Trout Fishing Workshops'). Then, we'd head out into the best trout fishing lakes in the park, through Lake Louisa, Harry, and Welcome the following day.
Day 0, Wed. July 16, Rock Lake
Trout fishing workshop, Rock Lake campground
We registered early for one of Greg Betteridge's amazing trout fishing workshops, held by the Friends of Algonquin Park. Peter and I had no idea what to expect from this course, but given my lack of success in trout fishing to date, I figured it could not make things worse. Greg's course focused on deep water trout fishing, ideal for summer canoe trips. He used downrigging trolling gear, and has developed a method specifically for canoeing. The man knows his stuff!
We setup in the car camping section of the Rock Lake campground, and then headed over to the Lakes of Two Rivers East Pavillion for the afternoon and evening course. We had bought our trolling gear in advance, which Greg and his team expertly spooled up at the course. Then, we headed out onto the lake at dusk, for some practice with our newly taught techniques. Amazingly, two people in the group did indeed catch a couple trout, which really surprised me, for a busy highway 60 access lake. We started feeling like the trip could well be a success, despite years of trout failure for me.
Day 1 and 2, Thurs. July 17, Lake Louisa
13km: p3000m
After enduring a night of crowded and unsightly car camping (truly the worst of outdoors experiences), we woke up to have breakfast and start our proper trout fishing trip, to ply our new skills. From here on in, we were on our own, no more course and Greg's wisdom to guide us!
We had an auspices start though, as I frantically searched for the gas stove to cook on. Incredibly, it turned out I had forgotten it at home! For those that know me, and know my ridiculously over-organized planning and gear lists, you may find this surprising. The best I can say is that after years of planning trips, I seem to be blind to my own lists, and instincts take over... leading to mistakes. Thankfully, the Opeongo Outfitting store a few kilometers away was open that morning, and we were able to make a quick trip, and buy a new replacement stove. I needed a new stove anyway... that's the ticket! And Peter generously offered to buy my old one on return, as he didn't have a portable micro stove yet.
For all my canoe travels, I've never been to Lake Louisa. I've heard it is beautiful, the nicest lake in the park. With the 3km portage to get into it, it is well protected from typical Algonquin party trippers, which is good. Indeed, it is a very scenic lake.
We settled for an island site in the west side of the lake, based on advise from Greg about good trout trolling zones on the lake. We setup camp, and were all alone on the lake. We setup our trolling gear, and off we went, with very low expectations for mid afternoon fishing on a clear and sunny day.
And amazingly, within 30 minutes, we started catching trout! In fact, every 30 minutes, Peter and I alternated a catch consistently. We caught our limit for the day, and returned to camp to cook up a feast. The year prior, I introduced a good friend Rob to canoe tripping, and he is an expert chef. As a surprise, he brought along some gourmet olive oil that he sells, fresh herbs, and capers which we used to prepare the bass that trip... it was amazing! So, I brought along olive oil, capers and fresh herbs from my garden at home, and now do so on every trip. The trout was "to die for"... our first day, and we were already having more success than we could expect. Thank you Greg!
The next day, our solitary enjoyment of Lake Louisa ended as a girls group canoed in, and took up residence in the nearest possible campsite across the way (grumble). They were pretty loud, but having fun... especially swimming like loons at 11pm that night.
So, we went out again to fish on the second day, and were shocked again at our success. In fact, I managed to land a massive monster lake trout, which took us 20 minutes to reel in. We were simply not prepared to land a fish this large, with my puny little 30 year old threadbare fishing net. But, amazingly, we landed the beast, as the photo proves (although my hat was stinky for the rest of the trip). Of course, we released it, and it swam off quickly. Lessons learned... I now have fish gloves to hold trout (and pike), since they are slimy and slippery, and a much larger collapsible fishing net.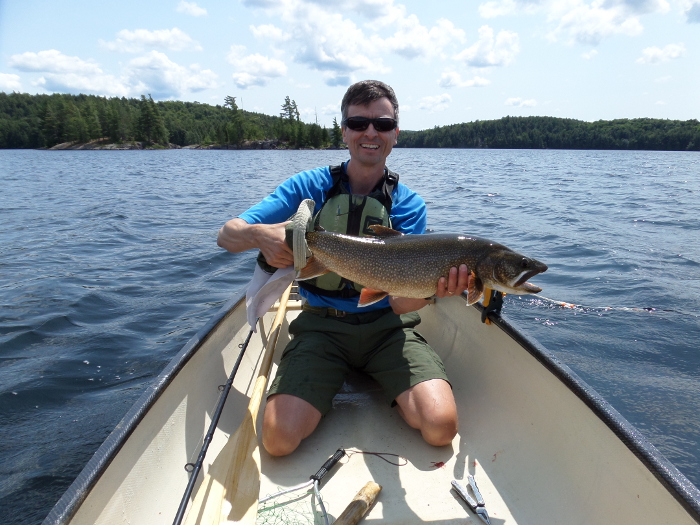 Here is a link to a short video of the catch. To avoid embarrassment, I won't include a link to the catching part, since our fumbling and lack of experience would be obvious.
Day 3 and 4, Saturday, July 19, Harry Lake
8.5km: p1725, p320
After two glorious days on Louisa, it was time to move on. Harry Lake, our next destination, has natural rainbow trout. Rainbow and lake trout do not mix generally, and I had never caught rainbows before. After setting up camp, we began our usual trolling routine. Here, we had no tips to follow for location, so we simply tried a bunch of different areas, looking for good 25-30 foot drop off points. Eventually, we found a good line to run, and caught some beautiful rainbow trout. Took some time to catch some we could keep (size limits)... certainly not as easy as on Louisa. Rainbow meat is blood red, and cooks up pink and with a bit more flavour than lake trout... delicious.
| | |
| --- | --- |
| | |
The next day was rainy and cool, so we stayed put on Harry rather than moving on to Pen Lake (there were no crowds of canoeist this deep into the park). Oddly, despite what I would consider favourable weather for fishing, we had a tough time catching much more rainbow trout. Just two trout that day (yes, we were spoiled!)
I get a kick out of watching sea gulls eat up fish guts, so I generally set them out at a slight distance but within sight of camp. I caught this short video of one gobbling up a complete carcass of one fish, head to tail! It could not eat a bite after that for over an hour, but stayed and guarded the remaining tidbits. Very entertaining.
Day 4, Mon. July 21, exit to Rock Lake through Welcome
18km: p2170, p275, p375

The price we paid for the extra night on Harry was a LONG trip out of the park through Welcome Lake. But, the weather improved, warming up nicely, and just a light breeze. As we worked our way onto Welcome lake, we decided to troll our way across. And we managed to catch one nice sized keeper lake trout! We fried it up as a shore lunch, which is something I've never done before.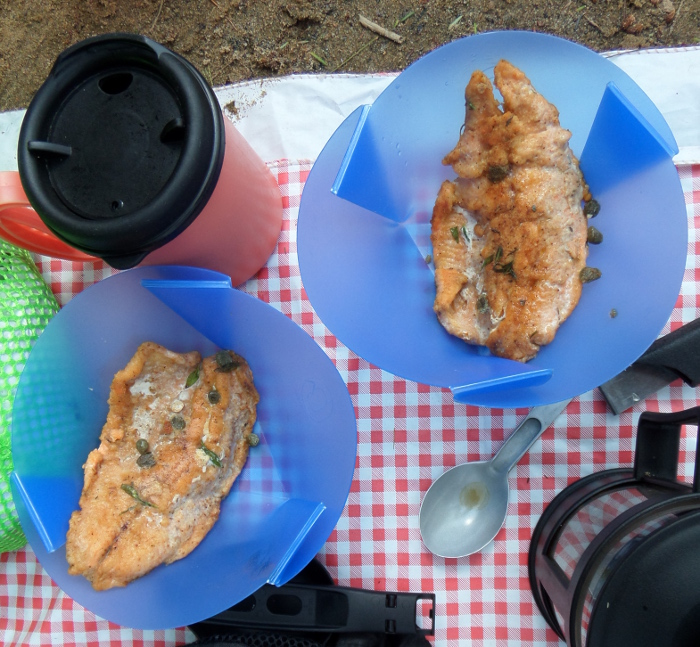 It was 5pm by the time we got out of the park (after a couple stops along the way to swim). Peter and I were simply amazed with the success we had trout fishing on this trip, and I think it will become a regular annual excursion for us!