Blackjack Counter for Pocket PC (v 2.03)
Click here for our Palm OS version
Click here for our Windows version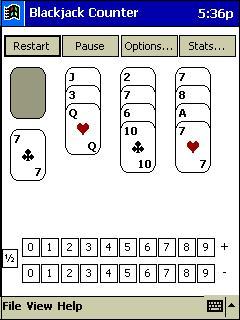 Blackjack Counter is a drillmaster program designed to help you learn advanced card counting techniques and basic strategy. It is power-packed with expert features, yet it's perfect for novices looking to start counting cards. Use one of the popular built-in count systems, or enter your own favorite. Includes count-down drills, index tests, bet-size checks, true counts, and more!
Blackjack Counter has every feature of Blackjack Mentor. Two new modes include Count and Index, where you can fully specify the system parameters, including card values, bet ramp, index values, insurance numbers, and IRC. Balanced and unbalanced count systems are supported, as well as run count, true count, and even half deck true count. Even fractional card values and indices are supported!
Extensive on-line help provides complete documentation on every feature. With the popular built-in count systems, there's nothing else you need to get started! Card counting is much simpler than you might think, and is quickly mastered with the superior drills and tests in Blackjack Counter.
Blackjack Counter for PocketPC will run on any ARM, MIPS, or SH3 processor Microsoft WinCE 3.0 or higher device (iPAQ, PocketPC, Casseopia, etc.). This program may run on additional handheld systems from Microsoft.
Purchase
OK! So you've tried Blackjack Counter and want to register. Get a registration code INSTANTLY for the low price of $35 (US)! Click below to use our secure online order form.

When you register Blackjack Counter, you will receive a special registration code to enter into the program. You do not have to download a different version of the software.
Registered users receive free updates... forever!
Download
The shareware version of Blackjack Counter for Pocket PC is fully functional, and completely free! Until you purchase a registration code, you will be reminded to register, and the program will occasionally reset to the state when you first installed it (default tables reloaded, statistics cleared).
Once you download this installation, simply run the exe on your Windows desktop computer. Follow the installation prompts that will install the program to your Pocket PC device. Our programs are thoroughly scanned for viruses before publication.
Need to install directly to your Pocket PC device (Over the Air)? Click here for download instructions for users that do not synchronize their device with a Windows desktop computer.
Device support
This download will work with all PocketPC devices (ARM, MIPS and SH3 processors) running WinCE version 3.0 or higher. Click here for full details and instructions for determining if your device is supported.
Supplementary Databases
Blackjack Counter for Pocket PC comes with a good beginner's set of count system, including Red 7, Uston Simple Plus/Minus, Uston Advanced Plus/Minus, and Tamburin HiLo. Also, two multi deck and three single deck action tables are included.
What if your favorite count system or casino variant is not covered in the default set? No problem... now you can purchase one of several supplementary databases that extend Blackjack Counter with more Count systems, Action tables, and Index sets.
Each supplementary database includes a detailed description of the systems and tables, plus a full Blackjack Audit analysis report showing the expectation and other valuable statistical information about the system.
To find out more, or purchase a supplementary database, click below:
As an added bonus, the supplementary databases work in all versions of Blackjack Counter: Palm, Windows and Pocket PC.
100% compatible with the Windows version!
As an added bonus, Blackjack Counter for Pocket PC is 100% compatible with the Windows and Palm versions. All count systems and databases that you have entered can be transfered into the Pocket PC version. Simply save your count systems, action tables, and index sets from either version, and load the database file into the Pocket PC product!
Reviews
Over 40,000 satisfied users can't be wrong! Find out for yourself why users everywhere are using Blackjack Mentor to play like a pro. Increase your chances of winning at the blackjack tables! ZDNet gives Blackjack Mentor 5 out of 5 stars:
"If you're serious about excelling in Blackjack, you'll want to check out Blackjack Mentor."
Here are some more comments from users:
"This is one of the BEST apps I have ever downloaded for my Palm. It's simple, clear interface, is easy to use, and allows you to focus on improving your game." - C. Trott

"This affordable program is an excellent way to practice for the real thing. It keeps track of the mistakes you make and drills you on the more difficult plays." - D. Elfstrom

"It works great and is exactly what I was searching for in a blackjack program. Well done!" - J. Celen

"An excellent program! I really liked the explanation of the game, especially how to indicate your actions when playing at the table." - B. Russell

"Blackjack Mentor has helped me greatly to learn correct basic strategy. Thanks for making such a great product." - P. Shellus

"I used you program to study for about a week before my Vegas trip. I came home with about 1400 extra dollars!" - J. Stacy

"Blackjack mentor is amazing... I took more than a few $$$ from the tables, and the winnings more than paid for my food drinks and fun over the course of the week!!!" - M. Fuller
Documentation
Complete online help is included with Blackjack Counter for Pocket PC that covers every feature of the product. In addition, a PDF format 40-page User's Guide is available that provides an introduction to basic strategy and card counting, as well as documentation on the software. With this Guide, Blackjack Counter has everything you need to master basic strategy and start learning to count cards. Although many outstanding books are available on basic strategy and card counting, you don't need them to use Blackjack Counter!
You must have Adobe Acrobat reader version 4.0 or higher installed to view this documentation. Click HERE to download it for FREE from Adobe.